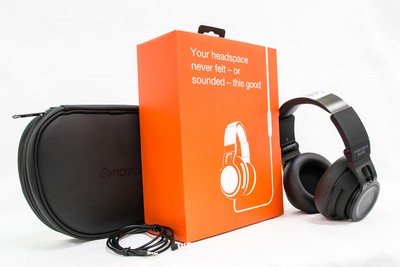 Ok...I am a child of the sixties so to speak.
During my teen years music played an important part back then.
My generation followed our favorite bands and purchased all of their record albums.
When head phones came out it was something that put us right there in the music.
Well that was ancient eons ago and headphone technology has evolved leaps and bounds since then.
Today I purchased a new set of over the ear headphones that far surpasses anything that I have owed before.
From my $800.00 set I once owned down to my $300.00 dollar set of worn out Bose, this new purchase beats them all hands down.
I saw a pair of
JBL Synchros s500 that normally sell for $280.00
that were currently on sale at Fry's electronics in Fountain Valley CA for $90.00 (until the 18th of this month).
Being a thrifty sort I went home and got on my laptop and did my research and read each and every review that I could find about them.
Something i do before I buy anything.
I made the decision to make the jump and purchase them.
I went back to my car in the Fry's parking lot and opened the box.
The packaging was classy like every Apple product that I have opened in the past.
I quickly installed the two small batteries that came with the headphones.
These are super special, they have a built in circuit that you can enable that creates a very live sound stage with crystal clear 3D like presence. They call it DSP a "live stage" spatial presence.
I plugged them into my iPhone and turned on some music, not quite knowing what to expect really.
I sat there in my car just stunned by the realism, it was if i were in the room where the music originated.
I must have sat there for over 5 minutes in total amazement and extreme delight.
When I got home I plugged them into my big PC where I have a very high end audiophile sound card.
I played some old Vineyard worship from the early 90's.
I was there at the recording of some of this music so i know how it sounded originally.
I tell you I could not even tell the difference.
It was if I were transported right back to those meetings like it was live.
I closed my eyes and almost got tears because of the realism and the power of the music.
Each and every note was reproduced just as I remember.
I could even tell the quality of the microphones that were used on stage when voices were heard.
I have never heard a pair of headphones this good before.
Seriously!
If you like listening to live worship such as
Hillsong
or the early
Vineyard
stuff these headphones put you there live when you listen.
It opens up a whole new listening dimension for me personally.
I once had the
Hughes Sound Retrieval System
in the early 90's.
It was the best for listening to worship back then that I could find.
What I have now is even better.
As I close my eyes I am truly blown away at the realism that comes across.
The sound stage is completely black and wide.
It is as if I were sitting in the front row just below the stage.
I played
The Mystery By Alexi.
I was told by Alexi that he took 5 years to record this music.
He used all analog equipment.
Some of his equipment he had purchased from a group called "Pink Floyd."
As I listened to this album I heard things that I had not heard before in the music.
I imagine that this is exactly what came out of Alexi's monitors when he engineered his final sound.
Once again I was overwhelmed by what I was hearing through these awesome head phones.
I am always searching for the ultimate listening experience and these JBL's I just found are incredible.
I dialed in my equalizer for my own listening preferences and was on the verge of tears as I came to realize my search may have come to an end.
I can't wait to
listen
to my
Kent Henry
CD's.
On the physical side, these headphones are definitely precision designed and made out of fine materials. They are very comfortable and refreshing in comparison to any of my other head phones.
I always like speakers but I can't turn them up like I would like too because my wife gets irritated.
With these head phones I can listen to my music with out disturbing anyone and I don't feel like I compromised my listening pleasure in the least bit.
I built and designed my own speakers and Erik J, as a gift, custom built my amp and preamp along with the customized clean power supply.
His equipment is totally exceptional audiophile level of the highest standards.
I never thought that my audiophile system could be beat by a pair of head phones.
But apparently I was wrong.
Just saying...
Listening to Kent Henry right now and it is as if I have a live feed from the meeting he is playing in.
You know what I will be doing for the next couple of hours :-)
Worshiping!